The magento plugin
When integrating with a Magento site, the first thing you have to do is verify your site's domain and create an UNLOQ application selecting the Magento implementation type. Once you've done so, go to your application's API keys and have that information in standby.
Next, login to your site's administration interface and install the UNLOQ plugin via Magento connect or manually downloading the latest release from our Github page and upload it to your site.
After you've installed the plugin, navigate to System - Configuration. You should see the UNLOQ login entry on the side menu, next to Services. Clicking on the menu entry will display you the setup form, asking for your application's API key and login widget key. Get them from your other tab and enter the information. You can also change the plugin theme to either Light or Dark to better suite your site's theme. Once you're done, continue by clicking Save Config to apply the updates.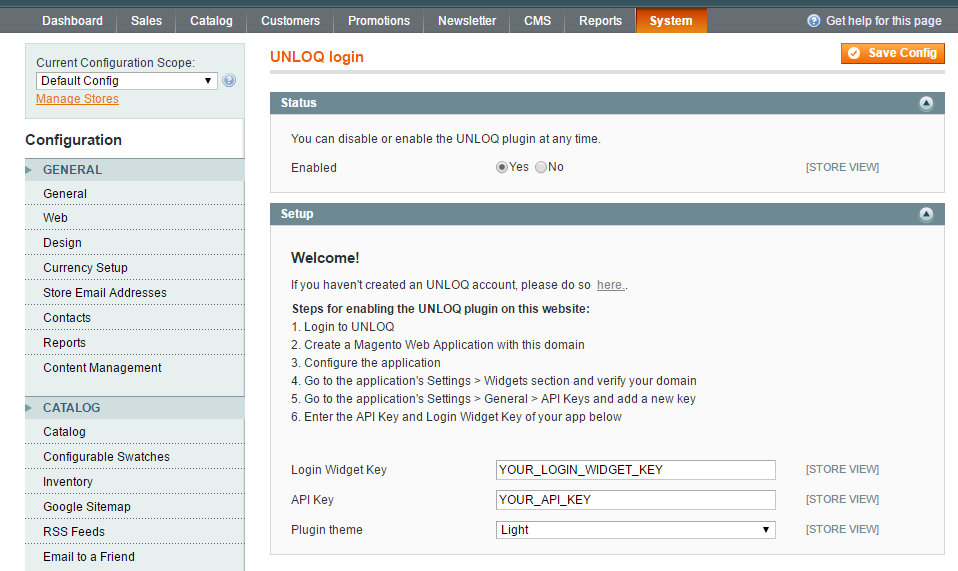 You have now integrated UNLOQ into your Magento application and enabled passwordless login. Next, you can go ahead and personalize your UNLOQ application.
You can read further on how to install Magento modules and extensions on Siteground.
Have a question? You can always send us an email at support@unloq.io, or contact us on chat.
For security related concerns, please visit our Security page.